Brené Brown talking about her new book Daring Greatly.
"It is not the critic who counts; not the man who points out how the strong man stumbles, or where the doer of deeds could have done them better. The credit belongs to the man who is actually in the arena, whose face is marred by dust and sweat and blood; who strives valiantly; who errs, who comes short again and again, because there is no effort without error and shortcoming; but who does actually strive to do the deeds; who knows great enthusiasms, the great devotions; who spends himself in a worthy cause; who at the best knows in the end the triumph of high achievement, and who at the worst, if he fails, at least fails while daring greatly."  US President Teddy Roosevelt
This quote, taken from a speech by  US President Teddy Roosevelt, is the inspiration behind the title of Brené Brown's new book Daring Greatly.  I was fortunate to be at the UK launch of her latest book on Monday night at Conway Hall in London which took place at an event organised by the School of Life.
The sell-out event took the form of a conversation between Brené Brown and Roman Krznaric, a founding faculty member of the School of Life.  Roman had prepared many questions to put to Brené but as she is such a wonderful story teller, conversation flowed very easily and Roman ran out of time to ask all the questions he had prepared.  One of the endearing features of listening to Brené talk is the fact that she is very willing to share her own vulnerabilty and to share stories from her own personal life and experiences.  She openly admitted at the beginning of the conversation that as a Texan she was nervous about talking to a crowd of British people famous for their stiff upper lip, but as the conversation unfolded her genuine charm, sense of humour and honesty disarmed the audience and culminated in a standing ovation from the crowd at the end of the evening.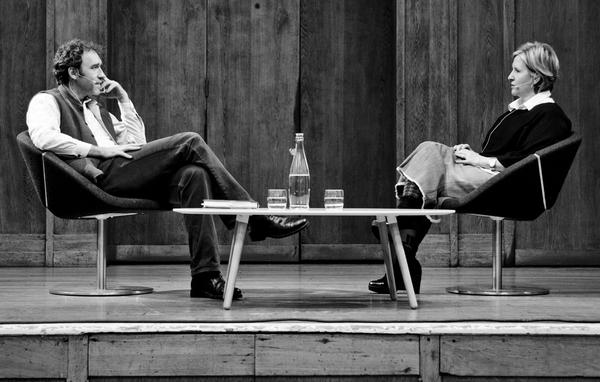 So who is Brené Brown and what is so special about her?  Here is the bio from her own website:
Brené Brown, Ph.D., LMSW is a research professor at the University of Houston Graduate College of Social Work. She has spent the past decade studying vulnerability, courage, worthiness, and shame.
Brené is a nationally renowned speaker and has won numerous teaching awards, including the College's Outstanding Faculty Award. Her groundbreaking work has been featured on PBS, NPR, CNN, and has appeared in The Washington Post,Psychology Today, and many other national media outlets.
Her 2010 TEDxHouston talk on the power of vulnerability is one of most watched talks on TED.com, with approximately 5 million views. She gave the closing talk, Listening to Shame,  at the 2012 TED Conference in Long Beach.
Brené is the author of the forthcoming book Daring Greatly: How the Courage to Be Vulnerable Transforms the Way We Live, Love, Parent, and Lead (Sept. 2012). She is also the author of The Gifts of Imperfection (2010), and I Thought It Was Just Me (2007).
In 2007, Brené developed Connections, a psychoeducational shame resilience curriculum that is being facilitated across the nation by mental health and addiction professionals. The Connections Certification process was launched in 2012.
Brené lives in Houston with her husband, Steve, and their two children.
This bio gives you the basic facts but does not convey how well Brené connects with an audience (even a British one) and leaves everyone feeling inspired and uplifited.  Her natural warmth and honesty shine through and as her conversation is backed up by over a decade of serious research in her field she is definitely someone worth listening to. The topics of shame, worthiness and vulnerability are not easy ones and many would prefer to sweep such concepts under the carpet.  By giving voice to these topics and to previously unspoken experiences through her own unique blend of humour, research and storytelling, Brené demonstrates the importance of recognising feelings of shame and unworthiness and of accepting that we are not alone in having these feelings from time to time.  Equally, she argues, it is by being willing to show our vulnerabilty that we are able to experience life to the full rather than building a wall to avoid feelings of discomfort.
Brené has subtitled her new book Daring Greatly, How the Courage to Be Vulnerable Transforms the Way We Live, Love, Parent, and Lead. She explains in her book why expressing our vulnerability is not a sign of weakness but of courage and may be one of the most daring acts we can make.
Brené Brown talking at TEDx Houston 201O: The Power of Vulnerability
Here are some quotes from Daring Greatly:
"Vulnerability is not weakness, and the uncertainty, risk and emotional exposure we face every day are not optional. Our only choice is a question of engagement. Our willingness to own and engage with our vulnerability determines the depth of our courage and the clarity of our purpose; the level to which we protect ourselves from being vulnerable is a measure of our fear and disconnection." 
"When we spend our lives waiting until we're perfect or bulletproof before we walk into the arena, we ultimately sacrifice relationships and opportunities that may not be recoverable, we squander our precious time, and we turn our backs on our gifts, those unique contributions that only we can make," says Brown. "Perfect and bulletproof are seductive, but they don't exist in the human experience."
"Worrying about scarcity is our culture's version of post-traumatic stress. It happens when you've been through too much, and rather than coming together to heal (which requires vulnerability), we're angry and scared and at each other's throats."
"I define vulnerability as uncertainty, risk and emotional exposure. With that definition in mind, let's think about love. Waking up every day and loving someone who may or may not love us back, whose safety we can't ensure, who may stay in our lives or may leave without a moment's notice, who may be loyal to the day they die or betray us tomorrow — that's vulnerability."
"We judge people in areas where we're vulnerable to shame, especially picking folks who are doing worse than we're doing. If I feel good about my parenting, I have no interest in judging other people's choices. If I feel good about my body, I don't go around making fun of other people's weight or appearance. We're hard on each other because we're using each other as a launching pad out of our own perceived deficiency."
"Raising children who are hopeful and who have the courage to be vulnerable means stepping back and letting them experience disappointment, deal with conflict, learn how to assert themselves, and have the opportunity to fail. If we're always following our children into the arena, hushing the critics, and assuring their victory, they'll never learn that they have the ability to dare greatly on their own."
Brené Brown talking at TED: Listening to Shame
Brené Brown's new book Daring Greatly is now available to purchase. You can download her Manifestos for Parenting and Leadership and also her reading guide to accompany the book.
Posted by Shona Lockhart, 5th October 2012